2007-12-15, 12:36

At the SC 34 Closing Plenary
The closing SC 34 plenary passed, as expected, without controversy – but instead with some warmth of feeling as the attendees expressed their appreciation for the outgoing SC 34 officers.
The Unclogging of SC 34
SC 34 seems to be getting over the worst effect of its influx of new members: ballots not getting passed because of insufficient voting. Some NBs attending these meetings were even able to submit votes for open ballots, getting us up to the required numbers just in time. Talking to them it seems the problem has (as usual) been "cock-up rather than conspiracy", with problems occurring such as emails going awry in the bureaucracies of the new members' standards bodies.
This means that my working group (WG 1) was able to progress its work on
DSDL
and the part I am editing (DTLL) is due to advance to FCD (Final Committee Draft) stage early next year. I was also able to continue work on an implementation of a DTLL validator in Java – this is open source and on
sourceforge
, though I don't recommend checking it out unless people want a very early view, or want to help with the coding effort (yes please!)
Impressions of Japan
This was a very enjoyable and worthwhile trip, and it is reassuring to have seen SC 34 continuing to function effectively. The Japanese people are very friendly, the food fantastic, and the temples and gardens so beautiful (Kyoto has the highest density of
World Heritage Sites
of anywhere on the planet). I regretted not taking a more serious camera than my battered
Canon compact
. If there's one place in this world that merits lots of megapixels and fine optics, it's Kyoto.
And OOXML?
Though DIS 29500 was off the agenda, it was, out of session, on most people's lips. It is my hope that good faith engagement with the process and principled discussion from all (what might be called SC 34 characteristics) will ultimately triumph, though (as patrollers of the blogs will know) feelings seem to be running high in some quarters.
No neutral observer is being so foolish as to predict what will happen – on the long flight home I was pondering this and found (possibly as a result of too much in-flight Sake) a Haiku coming to mind which seemed to sum this up:
Six thousand pages,
And five days in Geneva;
Maybe it will pass.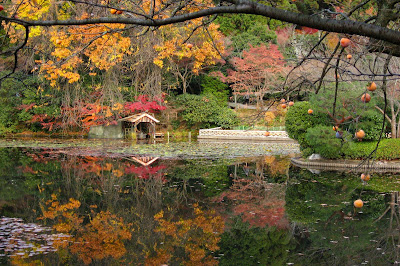 Mirror Lake at Ryoan-ji Temple
2 comments
( 3499 views ) |
permalink
|
stumble this
|
digg it!
<<First
<Back
| 3 | 4 | 5 | 6 | 7 | 8 | 9 | 10 | 11 | 12 |
Next>
Last>>